You all have recommended what seems to be a fabulous list of authors for me to explore – yay! So far I've added Gene Stratton Porter, Bodie Thoene, Gilbert Morris, James Mitchner and William P. Young to my list to check out.
Also my Facebook friend Charyl mentioned the book trading site www.PaperbackSwap.com. Apparently you list books you are willing to mail out at the cost of media post rate, you get credits and then you can ask for books to be sent to you. Have any of you used that service? I'll probably be checking that out as well!
A couple of you mentioned that you're also Margaret Atwood fans and I want to share with you the poem that opens The Year of the Flood:
The Garden
Who is it tends the garden, the garden oh so green,
twas once the finest garden that ever has been seen.
And in it God's dear creatures did swim and fly and play,
but then came greedy spoilers and killed them all away.
And all the trees that flourished and gave us wholesome fruit,
by waves of sand are buried both leaf and branch and root.
And all the shining water is turned to slime and mire,
and all the feathered birds so bright have ceased their joyful choir.
Oh garden, oh my garden I'll mourn forever more,
until the Gardeners arise and you to life restore.
I just love it!
Thanks for all your so kind words about the "Book Worm" kit! It means a lot to me when you take time to comment. 🙂 You can snag my Day 19 part over at Divine in the DAD forum, PLUS I have a bonus goodie for you as well!
Here's the preview of today's portion available at Divine…make sure to snag it soon as each day's downloads are only available 24 hours:
And here's the bonus goodie I made for you! I'll be posting bonus goodies for each of my scheduled days so be sure to check back…they'll only be available for 3 days until the next one is posted!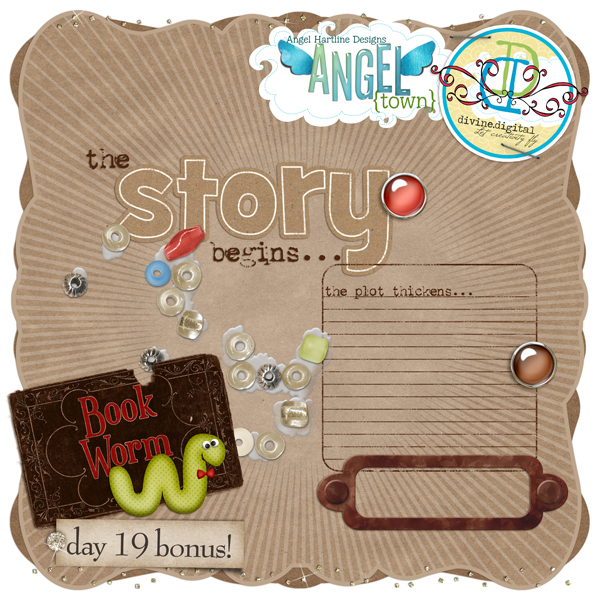 | Link expired |
Please take the time to leave me some love if you download! I so appreciate it! 🙂
Please DO NOT share this download link on any site or group. Send people here to download! Thank you!