It's blog train time!!! I hope you've all been getting in the holiday spirit with some festive Christmas tunes, because we have a Christmas Carol Blog Hop for you! Each designer created a mini based on our favorite carols.
I selected Away in a Manger as my carol. It's such a sweet children's carol, plus I sang it in church as a solo when I was a little girl of about 7 so I have fond memories of it. I practiced and practiced! Of course I don't really have a natural talent for singing so I'm sure the congregation had a *fabulous* time listening to my performance heeheeheee.
Here's my portion: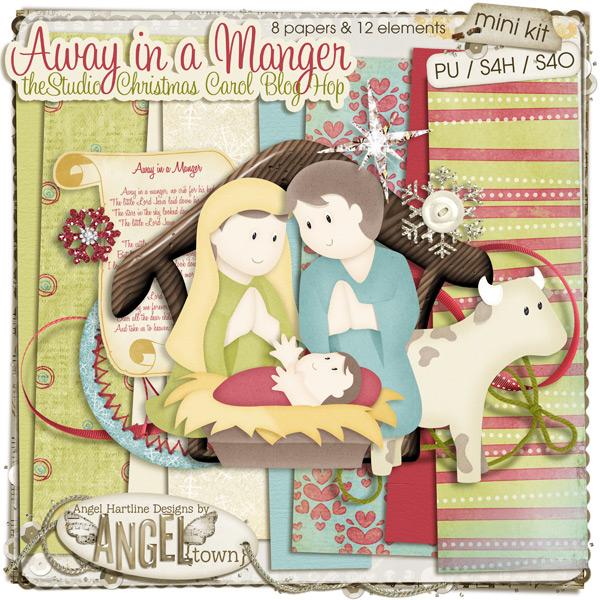 Link expired.
Please take the time to leave me some love if you download! I so appreciate it! 🙂
Please DO NOT share this download link on any site or group. Send people here to download! Thank you!
Here's the full list of participating designers so you can make sure you pick up all the pieces:
Ambowife – http://www.ambowife.com/blog
Deli Scraps – http://deliscraps.blogspot.com/
Angel Hartline Designs – http://angelhartline.com/blog/
Digilicious Designs – http://digilicious.typepad.com/digi_licious_designs/
Nibbles Skribbles – http://www.nibblesskribbles.com
Let Me Scrapbook! – http://letmescrapbook.blogspot.com/
Booland Designs – http://www.boolanddesigns.com
Darlene – http://darlenedesigns.blogspot.com
LightningBug Creations- http://lightningbugcreationskits.blogspot.com/
eqrAveziur graphic & design – http://www.aveziur.com
SKrapper Digitals – http://www.skrapperdigitals.blogspot.com
Shelly Marie Scraps – http://www.shellymariescraps.blogspot.com
Piggy Scraps Design – http://www.piggyscraps.blogspot.com/
theStudio Blog: http://www.digitalscrapbookingstudio.com/blog/
Twin Mom Scraps – http://twinmomscraps.blogspot.com
2 Girlz Designz – http://2girlzdesigns.blogspot.com