Today we're celebrating a wonderful friend's grand opening at theStudio! Woohoo! Congrats, Andrea! 🙂 Right now you can save 40% in her beautiful shop!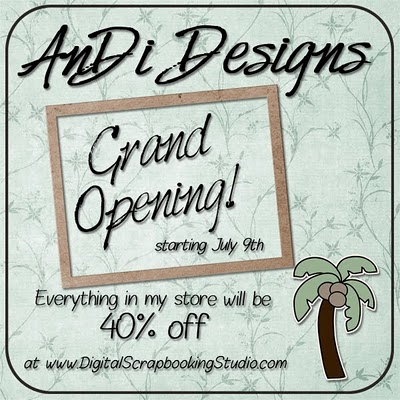 To celebrate several of the designers are having a blog train to share her lovely Seaside Serenity kit with you! Plus several designers have made extra coordinating goodies for you from the kit like QP's! Take a look at the part I have for you:
[ download link expired ]
Please take the time to leave AnDi some love if you download! 🙂
Please DO NOT share this download link on any site or group. Send people here to download! Thank you!
Here's the list of designers helping AnDi celebrate! Make sure to pick up all the parts to this beautiful kit plus those bonus pieces created for you:
Angel http://angeltown.typepad.com/ <– You're here!
Janice http://www.jwdigiscraps.com/
Toiny http://piggyscraps.blogspot.com/
LittleSpooky http://www.lightningbugcreations.blogspot.com/
AnDi Designs http://andreaditonno.blogspot.com/ *updated link
Kimberkatt http://kimberkattscraps.wordpress.com/
Min http://deliscraps.blogspot.com/
Lori http://thescrappytimes.wordpress.com/
MoonDesigns http://moon7x4.blogspot.com/
Anitaw http://anitawdesigns.blogspot.com/
Remember to be patient when you visit blogs…we're all in different time zones! Congrats again, AnDi!
I'll be back later today with a BRAND NEW MEGA COLLAB and more news!